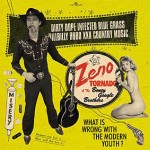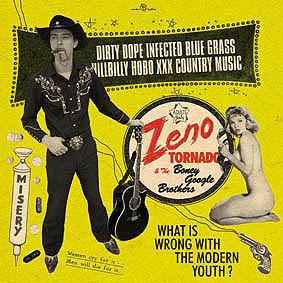 DIRTY DOPE INFECTED BLUE GRASS HILLBILLY HOBO XXX COUNTRY MUSIC – Zeno Tornado and The Boney Google Brothers (Voodoo Rhythm)
Switzerland has hardly ever been known as a mecca for country music, especially the distinctly traditional 'old timey' American country music delivered by Zeno Tornado and The Boney Google Brothers.
Vocalist-guitarist Zeno Tornado is backed up by The Boney Google Brothers: Satch Google (banjo, mandolin, lap steel), Manic Google (fiddle) and Magot Google (stand-up bass), as well guests Swan Lee (drums) and Isabelle Hell (vocals). The CD opens with the up tempo 'High' a tale of marijuana use (and abuse) from an early age, and features a stand-up bass solo from Magot Google.
"City Lights" is another early highlight with ear-catching mandolin from Satch Google, followed by some fine fiddle work from Manic Google. "Blah Blah Baby" features Zeno Tornado in a duet with Isabelle Hell as Zeno bemoans a nagging, tiresome partner whom turns him off marital sex.
"Liver Lover" continues in an up-tempo vein as Zeno Tornado discusses his abuse of alcohol and its effect on his liver, as the band pay a musical tribute in part to the Carl Perkins-penned classic "Blue Suede Shoes".
The only non-original tune on the CDLP is 'Highwayman' previously recorded by The Highwaymen featuring Johnny Cash (RIP), Waylon Jennings (RIP), Kris Kristofferson and Willie Nelson and written by Jimmy Webb (writer of Glen Campbell classics "Wichita Lineman" and "By the Time I Het to Phoenix"). It features the guest guitarist (and producer) Olifer M. Guz, with the standard Zeno Tornado hillbilly sound – a far cry from the version by The Highwaymen.
"Live's a Pissing Against the Wind" has to be the best song title of 2003, as Zeno tells us about life becoming a massive pain up the behind, in the band's usual rollicking, up-tempo fashion. "Family Man" must have the best first line in any song of 2003, as Zeno tells us this time of his dad, and his career as an adult movie star.
"Vanbang" appears to be taken from a radio appearance, with its faux guest radio DJ introduction for Zeno and the band, as he is yet again joined by Isabelle Hell as Zeno sings about down-and-dirty sex activities. "Rebel" closes the album, with Zeno taking a moment to deliver a song on his own.
For fans of The Supersuckers "Must have been High / Live", Ween's "12 Golden Country Greats" and Earl Lee Grace's (the side project of legendary singer of The Dwarve's Blag Dahlia) "Blackgrass", "Dirty Dope Infected Blue Grass Hillbilly Hobo XXX Country Music", fits right in with its sex, violence, drinking and drug abuse and is the most killer "roots" music release of 2003.
Definitely for scumbags and not for kids. – Simon Li