LOVER OF YOUR DREAMS – Zeno Tornado and The Boney Google Brothers (Voodoo Rhythm)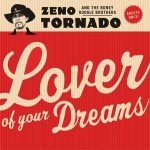 With "Lover of your dreams", Zeno Tornado and The Boney Google Brothers follow up their impressive debut CDLP, by continuing to prove they are arguably one of (if not) the most underrated modern honky tonky country groups around today.
It's probably due in part to their European roots and the fact that the band has not been able to tour the southern states of the USA that they'r enot betetr-known. It's in the US where Zeno Tornado should develop a keen following, given his take on the genre.
"Lover of Your Dreams" features 14 tracks and for fans of the likes of Wayne 'The Train' Hancock and Hank III, songs like "Out of Control", "Home Sweet Home", "Party", "Riding" and "Broken Wings" should find immediate favour. The band is in killer form throughout.
On their debut CD, Zeno explored mostly personal lyrical content and this continues here in "Don't You Fall in Love With Me", "Misery" and "Shame" (featuring guest vocalist Cheesy Weaver) the best examples.
"Lover of Your Dreams" is a solid follow-up effort from Zeno Tornado and The Boney Google Brothers and builds on the unique position of the band in underground European music.– Simon Li