Hi Folks, this is the last blog from NZ so far.
We had a good gig on the coromandel peninsula in colville, a little town with about 3 Houses.
I don't know where all the people came from, but there were some, we had a smoke machine
some lights and we even got recorded. It was a byo drinks party and they made delicious hot dogs there.
There was a sign: NO GUMBOOTS OR STILETTOS ALLOWED, so we got in to our gumstilettos and started the show.
Outside there were all these hillbillis with gumboots on and fought a hell of a fight with there stilettos,
We were really glad that we didn't let them in.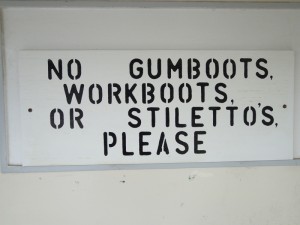 We slept in the Town Hall and when the mysterious tape man disapeared, there was so much smoke in the hall; we had a good night of sleep.
In the morning about nine we got a warm wake up call from a baritone saxophone that made the walls
of the hall trembling, I reckon that woke all Colville.
And we had a good swim in an undiscovered bay where we got in touch with weed smoking and energy drinks drinkin native Maori girls, really nice.
Well later on we were off for Auckland, the big Metropole of NZ, no it isn't the capital, that's Wellington.
There is a club called the wine cellar, small lovely venue with a good sound engeneer, comfortable Sofas and, as allways, nice kiwi folks. I think there are some Clubs in this area, but we got a good share
of people, it was hot as hell and sweat was dripping to the floor. Awesome!
I experienced the first traffic jam in NZ around that big City of Auckland, allmost forgot how it is, being in a car, picking my nose and waiting to roll a few meters, don't know if I miss Switzerland…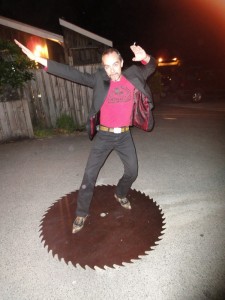 Allright, last show, the 29. of January in Leigh, in an old sawmill where they make the best Pizzas in whole NZ! I ate so many pizzas, and never got enough of that shit.
Tape Man wrote the Setlist for Delaney Davidson which resulted in a beautiful set and then he played himself and crashed the whole stage.
John Deere, our Guitarist and Jack Shit, our Drummer just grew themselves awesomes mustaches,
the audience enjoyed the lyrics and yelled for songs, so we played some twice, till the club had to close the doors. We got pretty drunk with that great homebrewed beer they made in LEIGH'S SAWMILL, cussin' with Ed and Ben the owners of that club and the Staff.
Yeah, that's it folks. I'm Off for Holidays for now and spend that tourmoney…
I want to say my greatful thanks to Delaney Davidson the man who made all this possible, The Mysterious Tape Man, Jack Shit and John Deere, Dylan Herkes, our good soul on tour and his lovely wife Erin and of course Mr. Nissan Datsun for all the curves and K's.
All the best and all the AWESOMENESS in the whole wide world.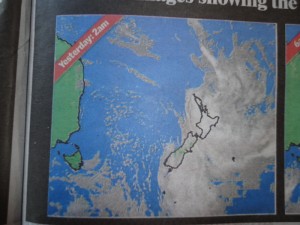 Tornado over New Zealand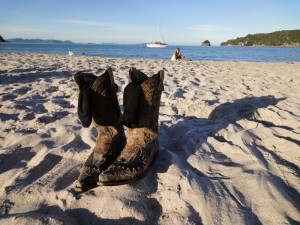 Off for holidays